I will tell you the basic rules of folk food.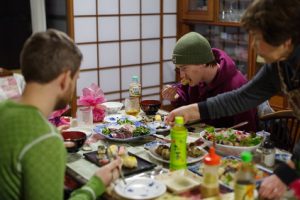 One, two or more consecutive nights are eligible.
2. Make a reservation for the next day's meals by 19:00 on the first night.
3. If there is an approval from the folk food family, we will go to the folk food family designated at 18:00 the next day.
* For foreigners, we will share the general courtesy of visiting Japan.
4. From 18 o'clock to 20 o'clock, help with meal preparation and have meals with your family.
5. Please pay 1500 yen to the home of the eateries on the way home.
6. If possible, 2 people and 3 people will be delighted in a single meal home.
Please.
I'm really sorry but
We do not accept reservations for private meals online or by phone.
This is a special rule that can be reserved the next day only when staying.
This system is repeatedly discussed with the eateries
Together, we have been thinking about ways that elderly people's households can last a long time.
We will try and error variously while operating.
Please understand this operation and use it.
This content may change in the future.
Please be sure to check this page.
I look forward to working with you.