we will explain about MINSYOKU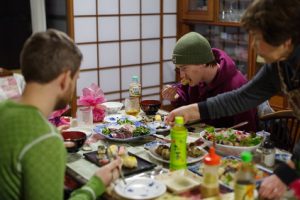 1. This system can be used only for those staying for 2 or more consecutive nights.
2. The next day's meal must be reserved by 19:00 on the first day.
3. If approved by the MINSHOKU family, go to the MINSHOKU family designated at 18:00 the next day.
* Teach you the rules (REIGI) for visiting a Japanese home.
4. From 18:00 to 20:00, help prepare the meal and eat with your family.
5. Please pay 2000 yen when you go home from MINSHOKU.
6. Reservation is best for 2 to 3 people in 1MINSHOKU family.
Reservations for MINSHOKU are not accepted online or by phone.
This is a special rule that can only be booked the next day if you are staying.
This system has been repeatedly discussed with MINSYOKU family
We thought that elderly MINSHOKU families could continue with this system.
Please understand and use this system.
This content is subject to change in the future.
Be sure to check this page.
Thank you very much.